At Horse and Rider Insurance Direct
we provide generous cover for you and your horse at a price you'll love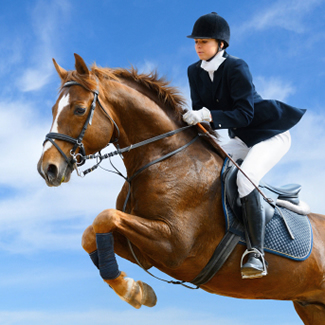 We know that your horse requires a lot of attention and care and this unfortunately means they are not the most economical pets available. The last thing you wish to worry about is the cost of medical treatment should you horse fall ill. This is where we like to think we can give you the piece of mind you need. Our extremely competitive premiums combined with our generous cover will ensure that you can concentrate on nursing your horse back to health, and not on your bank balance. Whether you own or loan the horse, we have a policy that will be designed to suit you! We also cover personal accident to any rider, tack cover and third party liability cover up to £2 million on request.
Each policy is tailor made for your requirements. In addition to the economy cover, there are numerous additions available depending on the age of your horse. We also calculate the premium based upon the level of work the horse partakes in, so you won't be paying for types of riding you do not do.
Our cover is not only limited to the horse. We also offer cover for horse trailers and a variety of horse drawn carriages.
Do you not own or loan your own horse? Our Rider Only policy is designed to insure you whilst riding other people's horses .
At Horse and Rider Insurance Direct, our success is the result of offering cheap high quality insurance policies that people love as much as their horse! We understand the importance of buying the best for you and your horse. We are horse lovers too! And after over 40 successful years we've discovered that finding the right insurance at the right price is not only important, it's everything. Talk to an Equine Insurance Specialist, not a call centre.
Why do I need to insure my horse?

Unlike motor insurance and the like, Horse Insurance, Pony Insurance, Rider Insurance and other such Policies are not necessarily required by law. However, as with any other type of non-compulsory insurance, you are taking on a big risk by not insuring. Horses bring love and joy into our lives, however should veterinary attention be required, be it for an injury or an illness, costs can spiral rapidly. For example, if your horse has the misfortune of suffering a colic epispode, colic surgery and associated veterinary care will costs thousands of pounds. Even if he just cuts himself on a fence in the field, after you add up the costs of veterinary visits, treatemnt, bandaging, antibacterial medication, you are looking at a hefty sum. If the Vet is required to come and attend to your horse out of hours (when you think about it, this is as likely as it is not), you can double any normal attendance costs. Are you comfortable you can afford all of that? Like you, we hope that nothing ever happens to your horse, however we are there to help if the worst does happen.

It isn't just veterinary treatment you need think about either. Third Party Liability cover is essential and you need to make sure you are covered, however unlikely you think an incident may be. Should any person be injured or property be damaged by your horse and you are shown to be negligent, you could find yourself looking at tens of thousands of pounds to pay. Check with the venues where you keep or ride your horse as they may well insist on third party liability cover.
Which one of your Policies is suitable for me and what am I covered for?

Here at HRID, we have a range of Policies to suit you and your horse, depending on what you need.

Our Young Horse Policy - Horse Insurance, Pony Insurance, Rider Insurance and Trailer Insurance are all available under our flagship Policy. This Policy provides the widest and most flexible range of cover, designed to be tailored to your needs. Third Party Liability is covered as standard, as well as death cover for your horse and loss by theft or straying. Veterinary Fees cover is available at a variety of different levels and fixed excesses. We even have a seperate section for non-veterinary treatment cover, so you are covered for work by a phsysiotherapist, farrier and the like as recommended by your Vet. Other insuers can limit cover to Veterinary treatment only, so bare this in mind! Personal Accident to the Rider cover, Loss of Use, Hire of a Replacement Horse following Theft and Tack cover can all be added or left off as you wish. The result? You end up with a Policy were you only pay for the cover you want and as a result a price that you may struggle to find anywhere else.

Our Mature Horse Policy - Mature Horse Insurance, Veteran Horse Insurance, Rider Insurance and Trailer Insurance are all available under our fantastic insurance package for older horses. You will find that as your horse gets older, no matter how fit he may be, insurers reduce the levels of cover available and bump up the price to go with it. Here at HRID, we try to go against the grain and offer generous insurance for your veteran whilst keeping the price low. We actually include more cover in the standard price than our Young Horse Policy! Included with every Mature Horse package is Third Party Liability Cover, Loss by Theft and Straying, Personal Accident to the Rider cover and Saddlery and tack cover kept at home. Similar to our Young Horse Policy, this Policy has a range of optional extras, depending on how comprehensive you need your cover to be. We offer two different types of Veterinary Fees cover, to cover either Accidental Injury only or the more comprehensive Accidental Injury, Illness and Disease. You can choose to include Death from Accidental Injury cover, Hire of a Replacement Horse following Theft and insure your riding tack away from home, if required. Again, just choose the level of cover that is right for you.

Our Pony Package - Pony Insurance, Rider Insurance and Trailer Insurance are all available under this budget Policy. Our Pony Package offers one of the best value insurance packages on the market! This fantastic Policy has a range of benefits for young horses and ponies under a certain height and value for basic riding use and can cost as little as £109.80, including Veterinary Fees cover! Included is Death of the Horse cover, loss by Theft and Straying, Third Party Liability Cover, Accident, illness and Disease Veterinary Fees Cover, Personal Accident to the Rider and Riding Tack cover at home.

With all of our Policies, you must insure your horse for its full market value, that is all we ask. Other than that, you are free to choose whatever level of cover you are comfortable with.